"How much does a bathroom remodel cost?"
At Bayview, we get this question all the time! Clients and walk-ins who visit the Showroom all want to know– how much money can I expect to spend for my bathroom remodel? Although this question may seem deserving of a simple and straightforward answer, it actually takes quite a bit more to accurately respond, because the price tag attached to any type of remodel involves several factors.
The cost of a bathroom remodel depends largely on the following; location and age of the home, size of the bathroom, how much construction is required, whether demolition is required, if there will be re-plumbing, and the quantity and quality of the new materials that will be used. With this in mind, there are generally 3 ways that bathroom remodels are categorized, which is by price. The least expensive bathroom remodel, or a basic bathroom upgrade, lists from $3-12,000, followed by a mid-range bathroom upgrade for $12-30,000, and finally, a high quality bathroom upgrade completes the 3 categories, with a price range from $30-100,000.
The following details of the 3 types of bathroom remodel types will help you understand what type of remodel to expect for your budgetary limits, and to help you better plan for your next remodel!
Basic Bathroom Upgrade: $3-12K
Who is this remodel for?
The basic bathroom upgrade is good for anyone looking to minimize costs, while making slight changes to improve the overall aesthetic appeal of the bathroom. This type of remodel is a great choice for someone looking to sell their home, but increase property value first with an improved look.
What will you get within this price range?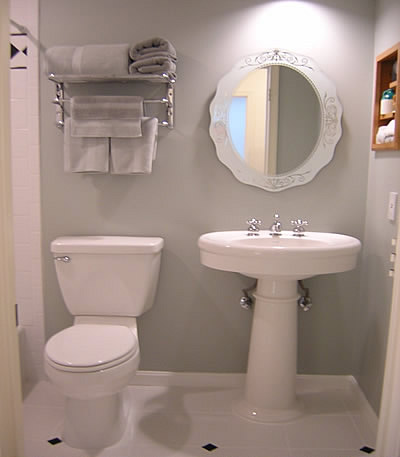 With this type of remodel, you most likely won't be moving plumbing, changing the footprint, or even doing much demo work. But, with this price range you can replace fixtures, upgrade materials with off-the-shelf products, add a small, prefabricated single undermount vanity, and possibly a fiberglass insert shower unit.
The vanity countertops for a basic bathroom upgrade will be of a low-grade granite type, and tile won't encompass the entire bathroom, but standard white/subway ceramic should cover the shower area. The walls will most likely be painted, and the lighting and fixtures will be basic and "off-the-shelf".
Mid-range Bathroom Remodel: $12-30K
Who is this remodel for?
The mid-range bathroom remodel is great for people who want  to make BIG changes to the overall room, and who aren't looking to move or sell anytime soon. While this type of remodel won't warrant too much adjusting of the overall footprint, it will provide more freedom for ordering higher quality fixtures, semi-custom cabinetry, and allow for general changes to the layout of the bathroom.
What will you get within this price range?
While this range seems wide at first blush, the great variance in price can first be attributed to location first. Obviously, a mid-range bathroom remodel price in New York is going to be different from one in rural Nebraska because of labor prices and project fees involved in the specific area. Location aside, a mid-range bathroom upgrade can vary widely depending on changes made to the footprint and re-adjusting of appliances and plumbing, such as moving the sink faucets and shower.
Aside from large structural changes, the mid-range remodel can also vary widely in cost depending on the quality and amount of materials and fixtures selected (obviously, the higher quality, the higher the price). At this price range, mid to high quality fixtures are used with copper or bronze material inside, as this is much sturdier than "off-the-shelf" fixtures, made mostly of plastic interior. Tile can also be used more liberally at this price, not only on the bathroom and shower floors, but also on the bathroom walls. Tile for a remodel within this budget range is usually porcelain or natural stone, and additional crafted borders or a feature strip can also be added.
In terms of cabinetry, the mid-range involves a custom or semi-custom built vanity with full access capabilities, a medicine cabinet, and ample storage space. Lastly, an upgraded water saving toilet, frameless shower enclosure, or new soaking tub can also be added in this price range.
High Quality Bathroom Remodel: $30-100K+
Who is this remodel for?
Also referred to as a full "gut job" this type of bathroom remodel is for anyone who has big bucks, and is looking to do a major remodeling overhaul. With this type of remodel, the sky's the limit! Everything will go away, and come back exactly where you want it. This type of remodel is a great choice for those who've got to have exactly what they want, and of course, also have the means to achieve it.
What will you get within this price range?
No holds barred here, and nothing is overlooked with a high quality, deluxe bathroom remodel. Large changes to the footprint can be made, as walls might be punched into an adjacent room for more space. Add a bathroom window, switch the plumbing for the toilet and the shower, and even add a sauna! Everything is possible with an unlimited budget.
Of course, the best quality material can be used for all encompassing tile work, which means natural marble, limestone, or granite– all of which are more labor intensive, and tricky to fabricate. The existing flooring can be swapped for radiant floor heating, a steam shower can be added, and even a drop in tub with high-quality surround material can be thrown in the mix. For cabinetry, a complete overlay or inset custom set can be installed with full-access pull out drawers in any wood species and finish desired. The vanity countertop will typically be a marble or granite slab, with an additional fabrication cost to fit around any style of sink and countertop measurements. For this type of remodel, the highest quality and technologically advanced dual-flush water saving toilet will be added. In terms of fixtures, the shower faucet, sink faucet, vanity accessories, knobs, towel bar, and custom lighting will all be among the highest quality selections available.
Bathroom Budget Breakdown
When your budget has finally been established, you can begin listing out the services and materials you'll need to gather in order to get your project started.
According to the National Kitchen and Bath Association's cost breakdown, here's the typical cost division for a mid-range bathroom remodel:
Design fees: 4%

Installation: 20%

Fixtures: 15%

Cabinetry & Hardware: 16%

Countertops: 7%

Lighting and Ventilation: 5%

Flooring: 9%

Doors and Windows: 4%

Walls and Ceilings: 5%

Faucets and Plumbing: 14%
2016 National and Regional Bathroom Averages
For a better understanding of the 2016 national and regional (Pacific Northwest) averages for bathroom remodels, visit this online resource:
http://www.remodeling.hw.net/cost-vs-value/2016/pacific/
Visit our Showroom for a Free Estimate!
For a FREE estimate including all construction and material costs for your next bathroom remodel, come visit our expert designers at Bayview Design Showroom in our Ryan Ranch location! 5 Harris Ct. Bldg S, Monterey, CA 93940